The Red C exit poll records an astounding result on Irish Unity – so amazing that it's presented as tucked in after another positive result on the Irish language, as if they don't quite  believe it.
Newton tweets Support for a united Ireland rises as support for Sinn Fein falls. Perhaps the southern electorate is more sophisticated on this point than it gets credit for.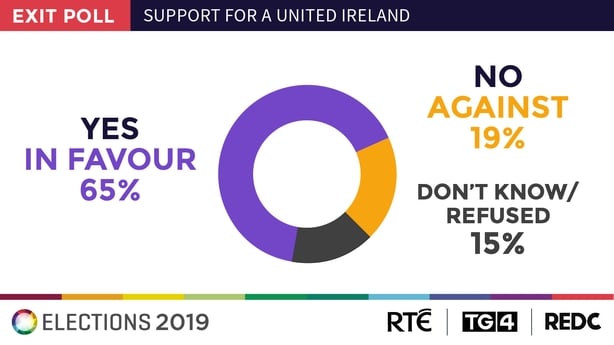 What's happening to them down there, so drunk with euphoria about what a terrific state they live in compared to Brexit Britain and the black North that they're prepared to take on anything including the North and doing more  on climate change? I'd like to see the question. Are the euros in the Republic like what they are in Britain, a  chance to shake the tree of aspiration and a verdict on how government measures up to the ideal, rather than the real choice they know they have to make elsewhere? However this one is interpreted,  the result will be  music to Brian Feeney's ears, who is so sure about a border poll soon – well, in 2021.
As soon as a proconsul announces a border poll, the legitimacy of the north's existence is gone. It means the British believe most people here want out of the UK. Secondly, if unionists had any wit, which they haven't, they would opt for a unitary state. Here's why. They are a community in retreat. Their current majority is like snow on a pitched roof. They are a diminishing minority in Ireland.

They would be nuts to opt to keep a Stormont assembly in which they would be an ever diminishing minority, entering Stormont at a roundabout with a statue of Bobby Sands on the pedestal. Far preferable to be constantly in government in a unitary state where they would always constitute a sufficiently large group to be a junior partner in coalition, guaranteed by the south's electoral system..

There is of course the basic democratic reason for a poll. That wouldn't appeal to unionists, but unification is the solution which avoids the backstop and allows the British to leave the EU and give everyone else in Europe peace and quiet. It is provided for in the Good Friday Agreement and allows the will of the majority north and south to prevail.

All we need now is for an Irish government to start thinking about it before its necessity hits them in the face after an election here.
 Seamus Mallon's recommendation for parallel consent in the North for Irish unity set a whole hare running. Respectful dissent came from Irish Times columnist Noel Whelan who believes " a majority" must mean 50%+1 in the GFA and the Irish constitution – and I agree with him.  A departure from so many precedents would be denounced as a fix.
Setting out, as I do here, the legal and political complexities of the generous offer Mallon urges nationalism to make to unionism is not to disagree with his broader point that proceeding to Irish unity on the basis of a narrowly passed Border poll would be dangerous

. I am among those who have repeatedly made the argument that Brexit shows what happens when insufficient care is given to what exactly is being proposed in new constitutional arrangements.

We can all agree that a sophisticated and detailed exploration of what precisely a united Ireland could mean is required before any Border poll. This should include extensive scholarly research, expert legal analysis, exhaustive parliamentary debate and consideration by citizens on the reality of achieving a truly inclusive united Ireland.

Mallon's remarks are a provocative and thoughtful contribution to that debate not least because they serve to illustrate once again how complex the journey to a united Ireland could be.
Fintan O'Toole sees unity as  the possible default from the breakup of Britain he rather welcomes on democratic grounds.  (I'm with him 90% of the way, up to that point).  
We don't know where this will end up – maybe nowhere. But maybe the UK itself will cease to be, as Scotland votes for independence within the EU and England descends into a long-term crisis of identity. This will make Northern Ireland in its current form unsustainable. Something big will have to be done, and the Republic will have to be involved in doing it.

But we have to remember two vital things. One is that, if Irish unity does emerge out of this mess, it will not be the climax of an old nationalist story. It will be the result of a whole new story – the Brexit story – and it will require a whole new way of thinking about the politics of belonging on these islands.
A blue skies  view from Dan O'Brien in the Indo harks back to the dual monarchy idea of the original Sinn Fein of Arthur Griffith.
Would the majority readily agree to consign the tricolour to history after almost two centuries and would we collectively find it acceptable, say, to incorporate the union jack into a new flag, as Australia and New Zealand do? (But may eventually drop, Dan, as Canada did but not Ontario didn't  in the 1960s and New Zealand tried to do last year, but failed by referendum) 

Unification – the most rational solution in the long term, in my view – would involve sacrifices on all sides. For the majority tradition, the biggest sacrifice might not be an extended period of austerity, but an acceptance that the minority's Britishness would have to be incorporated into the new state.

It is far from clear that we are anywhere near such an acceptance. Until such time as we are, don't expect unionists even to consider engaging in a process that would involve cutting their ties with Britain to become a small minority in an all-island state.
More follows, no doubt.
Former BBC journalist and manager in Belfast, Manchester and London, Editor Spolight; Political Editor BBC NI; Current Affairs Commissioning editor BBC Radio 4; Editor Political and Parliamentary Programmes, BBC Westminster; former London Editor Belfast Telegraph. Hon Senior Research Fellow, The Constitution Unit, Univ Coll. London