The image says it all – the Daily Mail's prediction 
Over the next two days, the Commons will hold free votes on "taking No Deal off the table" and extending Article 50. It's a historic  moment because for the first time  since universal suffrage a government will not be taking the lead  in directing the most important policy confronting them. Both motions will pass. Does this mean therefore we're heading for a soft Brexit like "Norway?" Not necessarily.
If a soft Brexit along the like of the Cooper- Boles motion  passes, would the government implement it under Theresa May or some other Conservative? Most unlikely. Would the Commons therefore agree to hold a general election? Despite bravado in public, both main parties are scared of the possible result. Could a new coalition be formed among  the soft Brexiteers of all parties? It's never been done. The nearest is when the minority Labour government in 1931 failed to get backbench support for employment benefit cuts. King George V called a conference to knock heads together and the Labour prime minister Ramsay McDonald formed a coalition with the largest single  party the Conservatives and a Liberal faction, earning for himself the title of the great betrayer by most Labour MPS who went into opposition and were nearly wiped out in the next general election. Not an appealing precedent.  The Crown can no longer act as a catalyst and there appears to be no substitute.  Speaker John Bercow? Don't even go there.
There is a lurking problem about the no No Deal motion. May's motion tabled last night only  removes No Deal from the table  until 29 March. If an extension of Article  50 is granted, it goes right back in.
Amazing as it may seem, her critics fear that May will use the  few weeks' grace to  return to her deal one more time.
A new  motion tabled by ERG's Steve Baker below appeals to Rees Mogg and co because they've nothing to lose by it and it avoids a soft Brexit.  And here's the thing. Although Brexit would be taken off the table for a while, it remains the default. If  MPs can't agree on a new arrangement, the Withdrawal Act passed by a huge majority  in the early innocent  days, kicks in and we leave  immediately without a deal. The hardline Brexiteeers would welcome that. For  legislation  trumps  mere motions.
Is the motion below the get out of gaol card for Brexit? It is called " Malthouse Plan B" a version of which was put forward a couple of days ago by Brexiteer Steve Baker and Nigel Dodds. It has now gathered support from among different factions from May's old mate the middle of the road Damien Green, the ex-Remainer Nicky Morgan and the ERG's Jacob Rees Mogg -and of course Nigel. It's a kind of would -be No Deal by agreement, or managed No Deal of the  kind once derided by opponents of No Deal as an oxymoron, but now back on the cards.  It replaces the twice rejected agreement with all the complications of the backstop  and extends Article 50 for only two months in order  to get the EU to agree to mutual standstill.
This arrangement would last  for two and a half years,  up  to December 2021. During this period the  UK and the EU would renegotiate the final settlement. Too ingenious to fly? Probably.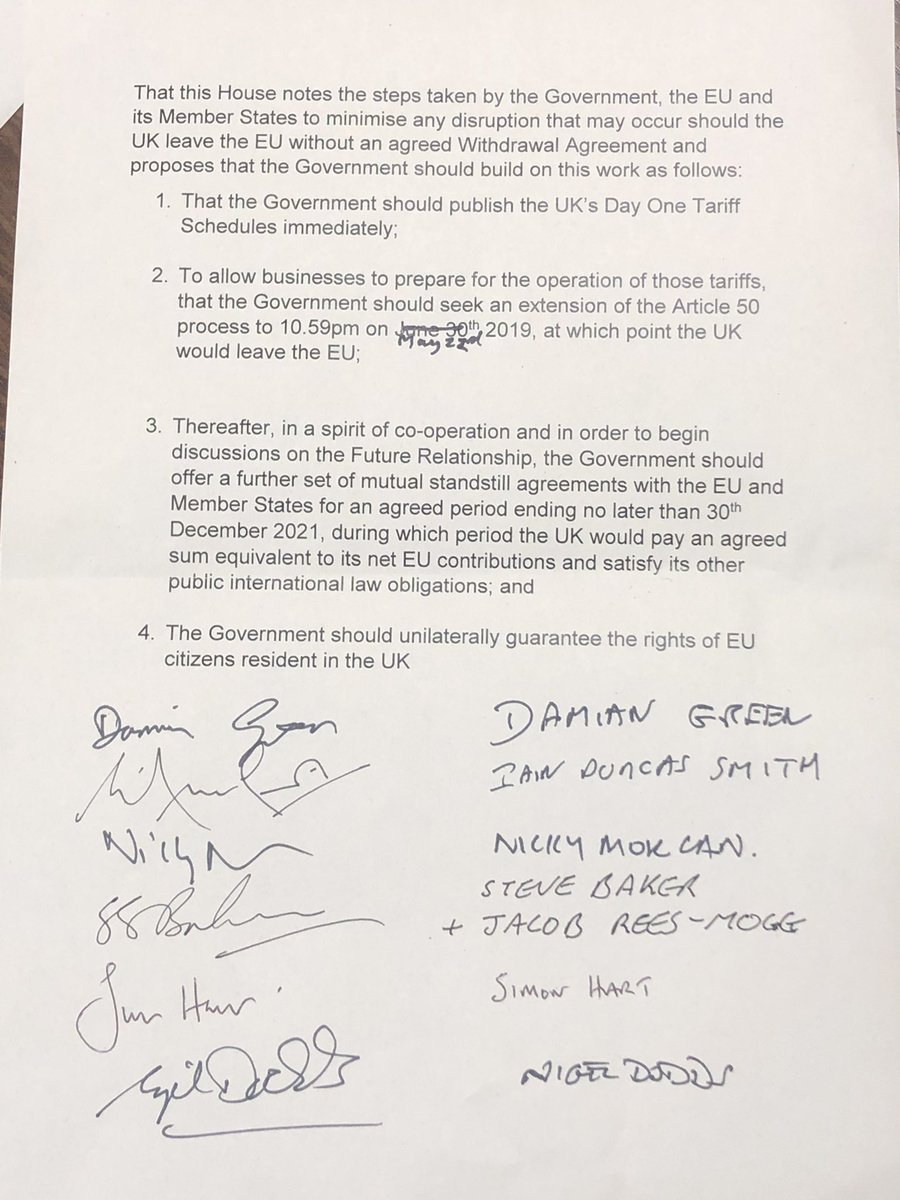 Later from The Guardian Live 
Steve Baker, deputy chairman of the European Research Group, claimed Brexiters were "all really yearning to be able to vote for" Theresa May's deal last night.
But he claimed attorney general Geoffrey Cox's verdict that the risk of staying in the backstop remained unchanged meant they had to reject it. He told Today:
That final paragraph of his advice showing we would not have a lawful mechanism to exit the backstop, really blew up all prospect of us being able to vote for the deal.
Asked what should happen now, Baker said:
We have tabled an amendment related to the Malthouse B compromise. That means you throw three safety nets around exiting without a withdrawal agreement. The first is that you continue to offer plan A, which is that if we had alternative arrangements on the Irish backstop, we would approve the withdrawal agreement. The second is that we would offer to buy the implementation period for the financial settlement in the withdrawal agreement, so they get about £10bn a year and we all get a transition arrangement. And the third is that we take advantage of a wide-range of standstill agreements and arrangements … and notify that trade preference to the WTO to exit smoothy.
Fellow Conservative Nick Boles dismissed the idea as "basically a no deal exit." He added the EU has made clear that it would not accept such options. He said:
It is incredibly important for all of us to stick to things that actually can be deliver and not to try to come up with new schemes that which simply won't fly.
Boles said parliament should use any extension to article 50 to "start voting on compromises".
He added:
We have not been given the chance ever, by this prime minister, to debate and vote on alternative compromises. We need to start doing that next week so the EU sees that we are actually making progress, that we are gripping reality not fantasy.
Boles said the prime minister was entitled to try to get her deal through. But he added:
What she is not entitled to do is prevent the rest of us from seeing if there are alternatives compromises that could attract the support of a majority.
b
Former BBC journalist and manager in Belfast, Manchester and London, Editor Spolight; Political Editor BBC NI; Current Affairs Commissioning editor BBC Radio 4; Editor Political and Parliamentary Programmes, BBC Westminster; former London Editor Belfast Telegraph. Hon Senior Research Fellow, The Constitution Unit, Univ Coll. London