I've only been to the Sinn Féin ard fheis twice. Eighteen or so months ago the coffee area outside the main hall in Dublin's RDS resounded with the voices from across the south of the island. But northern accents were scarce, and as a visitor it heightened the feeling of being an outsider and in a minority.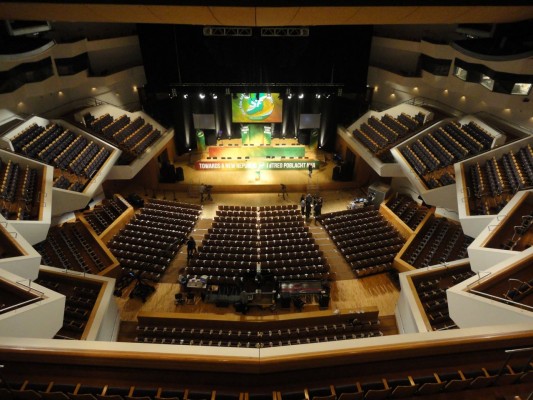 This weekend, the situation was reversed. While the theme was 'a new republic' and '32 county thinking', the accents floating across the concourse were predominantly northern. The mix of delegates had changed.
No doubt the attendance will shift again next year when Sinn Féin's ard fheis hits another province and visits Killarney. With a five to six hour drive, trains or flights, northern coach companies and Kerry hotels will enjoy good trade for those that are keen enough to make the trip.
To keep delegates in the hall, Sinn Féin would need to seat all of the delegates at tables and offer waiter service so people could dine and debate at the same time! But the ard fheis is as much social as it is political. The Waterfront's first floor catering was doing good business all through Saturday. Better business than many of the stall holders who were unimpressed with their isolated position and lack of passing trade. (And the food stalls in St George's Market were surprised delegates hadn't been directed across the road to sample their wares at lunchtime instead of queueing in the Waterfront.)
Delegate numbers in the hall varied during the sessions. I timelapsed a view of the stage and one part of the seating. It gives an impression of how different sessions were attended, but doesn't show the full auditorium. Some sessions were sparsely attended.
Sinn Féin's ard fheis differs from most other northern party conferences. While snippets of Irish are spoken at the SDLP and Alliance conferences, they have no need – or provision – of simultaneous translation headsets. Sinn Féin also managed to stream video of the two day event, opening up proceedings to supporters (and critics) outside the Belfast venue. It will be interesting to see how they further revamp their online efforts after the motion passed on Friday evening.
Each party has their dress code. Young DUP men tend to turn up in suit and tie. Older UUP women wear hats. Alliance have a lot of open necked shirts. The SDLP are reasonably casual. But Sinn Féin is definitely the only conference where young women turn up in what would pass for formal dresses, and even switch outfits during the day.
OF course, maybe what I should be noticing is that none of the other local parties have as many young female activists as Sinn Féin. A party that provides a crèche at its conference.
While Sinn Féin may not have voted in favour of motions asking for quotas of young candidates at the next southern local elections, they are the party that most consistently pushes young talent forward into the limelight at their conference.
Maybe as a sign of republican/unionist understanding, Barry McElduff will be invited to tell some jokes at the DUP conference, and Willie McCrea or Sammy Wilson will receive a reciprocal invitation to the next Sinn Féin ard fheis.
Overall it was a dull ard fheis. Apparently that was the way the party wanted it. Other than Rev David Latimer's emotional welcome on Friday night, the business on Saturday was mundane and surprise free. There was no bashing of Sinn Féin's northern partner in government – the DUP – and the SDLP and Margaret Ritchie were an irrelevance that was better ignored than drawn attention to. Sinn Féin portrayed themselves as being in control of northern politics and only attacked Fine Gael and Labour who govern the south.
Belfast had two high profile – yet contrasting – gatherings of alleged (former) men of war this week. On one side of Oxford Street, loyalists were in the dock at the heavily policed 'supergrass trial' in in the Laganside Courts. And across the road, Sinn Féin were holding its ard fheis in a well secured Waterfront Hall, in which some politicians, delegates and security men with perhaps at least as violent pasts were sitting freely.
Media interest in Sinn Féin will continue through next week until their presidential candidate is finally named. Youthful. Northerner – if they want to push the all-island buttons during the campaign. Southerner – if they want to avoid claims that they've had a northern president for the last 14 years. Bloggers and commenters will continue to waste words trying to predict the unpredictable.
Notes about blogging in the Waterfront Hall
Wifi is dodgy. It drops out, slows down, disappears, works in public areas but not in the main hall itself (at least, not in Tier T). Uploading audio is possible, and video streaming is ok, but don't even think about uploading decent quality video that you've recorded.
Vodafone signal in the main hall is poor. O2 is better.
There are very few electrical sockets, so bring extension reels – plural – and gaffer tape if you're stringing it across the auditorium.
The low balconies at the side of the stage offer a great view of stage and audience. But the best shots come from the 'bow' jutting out at the very top of the auditorium.
The staff are really nice, so ask for help.
The tea/coffee is really expensive, so consider walking across to St George's Market if you're there on Friday, Saturday or Sunday.
Alan Meban. Tweets as @alaninbelfast. Blogs about cinema and theatre over at Alan in Belfast. A freelancer who writes about and reports from civic, academic and political events, reviews cultural performances, chairs discussions, and live-tweets, streams and records lectures and conferences. He delivers social media training, coaching and consultancy, produces podcasts, is a member of Ofcom's Advisory Committee for Northern Ireland, FactCheckNI board member, and is a member of the Corrymeela Community.