Metal barriers surround the Belfast's Waterfront Hall this afternoon. A police landrover sits discreetly across the road. Yellow bibbed security teams thoroughly examine the bags of everyone arriving.
Gerry Adams and Martin McGuinness are in the main hall rehearsing their conference speeches using the teleprompter. Earlier in the day, twenty five or so elected representatives and rising stars rehearsed their two minute speeches that will delivered during the "live" section on Saturday when BBC and RTE are broadcasting live from the Ard Fheis.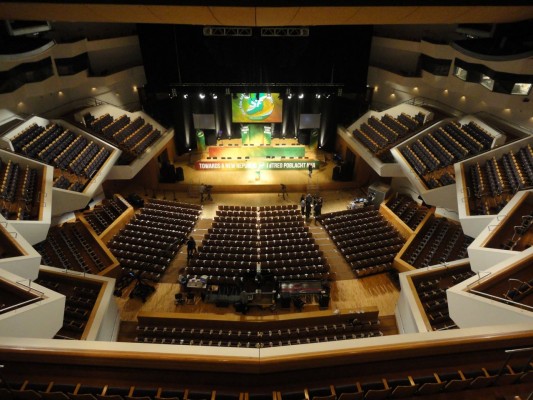 Queues of delegates line up waiting for their conference passes to be printed. A team of clipboard wielding students are surveying Sinn Féin members as they hang around the lobby. A sole blogger finds himself missing from the media list (again) and is thankful that the Lord Mayor has influence and can sort things out!
Photographers gather outside the Waterfront front doors and photograph Martin McGuinness shaking hands with the arriving Rev David Latimer from every conceivable angle. Delegates spontaneously rush forward to welcome the protestant cleric.
Six o'clock comes and goes. Delegates continue to gather. Journalists figure out that there really are only going to be four power sockets and no audio feed in the "press room".
Half an hour late, Alex Maskey finally opens the Ard Fheis, welcoming delegates to his South Belfast constituency. He reminds the 400 or so delegates sitting downstairs that "from the Waterfront Hall we can almost literally see the City Hall, renowned bastion of unionist bigotry", before going on to name check the republican Lord Mayor who is sitting on the platform just behind him.
Education motions are up first. After an introduction from Education Minister John O'Dowd, Daithí McKay describes the way some secondary schools in his constituency cooperate, and reiterates Sinn Féin's call for the Catholic Commission for Education to implement its decision to end the practice of academic selection within its schools.
And then it's the big event. The audio embedded below starts with Martin McGuinness' speech and immediately follows onto Rev David Latimer.
Martin McGuinness takes to the podium and introduces the Ard Fheis theme of "Towards a New Republic". He cites remarkable political progress over the last five years.
The DUP leadership had yet to sit down with Sinn Féin, the political institutions remained in what seemed like permanent suspension and the two governments seemed bereft of ideas to free up the process.
Six months after St Andrews, "the DUP and Ian Paisley were in power sharing institutions with Sinn Féin and the other parties on the basis of equality".
He also questions whether five years ago anyone would have seriously suggested Gerry Adams would be leading 14 TDs and 3 Senators.
Change does not have to take decades. Political circumstances can be moulded and shaped and change can quickly happen. This is the lesson of the past five years and more importantly it is the inspiration for the next five.
He talks about dealing with the legacy of the conflict. "Proper reconciliation is key to the future." He says that "the British government shunted the issue onto Eames/Bradley and then quietly placed their report on the shelf".
It seems to me that the biggest obstacle to properly dealing with the past is a continuing refusal at the very top of the British system to acknowledge their combatant role in the conflict. This needs to change. And republicans need to realise that dealing with the past will not be an easy process for us – Republicans inflicted much hurt during the conflict – but it we are to build a new Republic and a new future it is necessary and it is a road none of us should be afraid to go down.
Then back to the "new Republic" theme.
A new Republic can be built. But it will only be built if we take the lead in building it … Five years isn't a long time in the history of any nation – but in five years as we have already shown political conditions can be transformed. My message from here is that Ireland can be transformed in the next five – join with us in making that happen.
He introduces Rev David Latimer. Notable by its absence is the lack of mention in Martin's introduction – and the speech that follows – of the guest speaker's role as chaplain to the (British) Territorial Army!
… many within the unionist community are up for a journey of reconciliation and dialogue. Tonight one of those the Rev David Latimer from First Derry Presbyterian church has demonstrated that by his courageous decision to accept our invitation to address this Ard Fheis.
The delegates – around 700 in the hall by this stage – rise to their feet as the Latimer takes to the stage. He opens hesitantly.
My goodness. How can I follow Martin McGuinness? Frankly I don't think I can. Because I see you as one of the true great leaders of modern times. And my prayer is that he will be empowered and envisioned to take us forward in the inclusive way he is committed to. And I hope he gets the support from others, from within the other political parties, because it is together that we are going to build the future better and brighter.

Martin didn't tell you but he got me £1.6 million you know. (delegates laugh) Wonder what I'm expected to do tonight for that?
He addresses the delegates as "Friends" in Irish and goes on to comment on the welcome he has received at Ard Fheis.
That's Irish for 'Friends' and I begin intentionally with this word because that's what I firmly believe – and in my script I'd written 'what I firmly believe we are becoming' – but since arriving at the Waterfront tonight I have been overwhelmed by the warmth and the magnitude of the welcome I have received right from the security men at the barriers as I came in, through the corridors and into this hall. You know something? I don't think I would have this same welcome in the General Assembly in Belfast. (delegates laugh)

But Martin. You and I as you said have been journeying together for the last five years. And during that time ladies and gentlemen, Martin McGuinness and David Latimer have become firm friends who are able to easily relax in each other's company. While our interaction might understandably raise eyebrows amongst some within both our communities the reality is that you and I, Martin, regard ourselves to be brothers within the same human family, a world wide diverse family, which despite all its flaws and imperfections is loved by God, the maker of everything that lives and moves.

Your invitation to me, a protestant minister, is – I must tell you – forward looking and timely. I used these words on a couple of interviews this past week.
Latimer says that only 5% of the "deluge" of messages he has received this last week have been negative; the rest have been positive.
It suggests to me that out there, there is a swathe of people who are looking for positive leadership so that together we can go forward. Is it possible do you think that the Democratic Unionists could see their way to invite a Catholic priest to address their party conference this year or next?

I'd like to think my coreligionists would emulate what you have done, not for cheap publicity, because that's going to take us nowhere. Rather in recognition of despite our respective Dublin or London preferences that we have to learn to accept and respect. But despite our differing aspirations we want to acknowledge that our destinies are tied up together and our futures are bound together, which means ladies and gentlemen that neither of us can continue to walk alone. And the more we do together as people on the street, and as politicians up on the hill, the better we will shape our shared future.

The seeds of division and enmity that have long characterised Catholic and Protestant relations were neither sown in 1968 or in 1921 but probably the 1609 settlement of Ulster. Mistrust and bad feelings resulting in the colonisation of Ireland by Protestant settlers were followed by centuries of political and social segregation.

Partition in Ireland did little to ease sectarian mistrust and separateness between Protestants and Catholics left in the six counties as each community continued to be defined by its particular religious affiliations with little mixture between the two groups. Little wonder that this part of Ireland descended into a spiral of communal disorder and violence that was to last for decades.

Victims of difference. And victims of differences extending back across trackless centuries that have isolated us from one another. It is with the benefit of historical hindsight not surprising that our two communities should view each other with suspicion and regard one another as the enemy.

Locked into our respective comfort zones of isolation and poor relations, we miserably failed to understand each other and to do anything about each other's grievances.

A 1993 report to the General Assembly makes for interesting reading. And I quote: The Presbyterian Church in Ireland shares the guilt of the majority community in Northern Ireland for tolerating the practice of discrimination in jobs, housing and voting rights which largely led to the civil rights campaign in the late sixties.

Was the penny, albeit 15 years into the troubles, finally starting to drop? Was my community admitting that sins of omission could be as damaging as sins of commission?

I rather like a comment by Marcus Aurelius. The last of the five good emperors who during the second century wrote: a wrongdoer is often one who has left something undone, not always one who has done something.

Ladies and gentlemen, it is my considered opinion that by our silence and by our actions, we have together contributed to perpetuating the divisions created long ago. That progressively plunged us into the chaos and into the turmoil of the past.

Can I tell you something? This analysis that I'm sharing with you means there is no one orange or green who can lift an accusing finger and apportion blame. And why is that? Because all of us have been part of the problem in some shape or form. And those who like to throw stones from one camp to the other; they're out of order and they're not helping.

…

As a clergyman, I only wish that I could provide the hurting people in both of our communities with a ready mix and stir formula that would relieve their pain and wipe away their tears. Regretfully this is beyond the ability of any mortal individual to deliver. Although it could be helpful for broken and bruised people to be informed that it is acceptable for bereaved Protestants who articulate a story of the past, and for bereaved Catholics who also articulate a story of the past. Now while both sets of stories will contain significant differences, each must be recognised as real and as a personal story without an if or a but.

Therefore rather than airbrush personal stories of hurt there is a collective requirement for a spirit of maturity to be fostered whereby it would be possible for different stories relative to the past to be fairly acknowledged.

This could offer more than a modicum of comfort to our hurting people living in both Catholic and Protestant neighbourhoods. Although I very much doubt it will be sufficient. Which prompts me to suggest – and I'm moving onto the wavelength that Martin was on just a moment or two ago – because I'm thinking that within all your deliberations within Sinn Féin to try and address this painful and difficult area.

It makes be wonder if some framework could be devised that would lead us at some point in the future to what I'm calling a countrywide day for hope and transformation. Such a solitary event – we only need one – such a solitary and public event would I believe provide space and time for everybody involved in the conflict to acknowledge the pain that each has inflicted, recognising that we have hurt each other and we have been hurt by each other, and that we all need to forgive , would undeniably be liberating for all 32 counties of this island.

…

With God's help we can have a distinguished future where we will work and grow in harmony and not just for a particular cause, but for the good of everybody living and breathing, whether it's the north, northern Ireland, or the six counties.
He finishes with a Celtic blessing.
For all of you my friends, republicans, nationalists and catholics, from me a protestant, a Presbyterian and a unionist, but together we are people, people made in the image of God. And it's as people that I share this lovely blessing.

Listen to this, for it's for you, and indeed it is for all our people.

May the Lord show his mercy upon us. May the light of his presence be our guide. May be guard us and uphold us. May his Spirit be ever at our side. When we sleep may his angels watch over us. When we wake may he fill us with his grace. May we love him and serve him all our days. Then in heaven may we see his face. Through Jesus Christ our Lord. In the name of the Father, and of the Son, and of the Holy Spirit, Amen.
The hall half empties as the visiting speaker makes his way up the aisle and heads outside to the media scrum and an impromptu press conference. For the next ten minutes or more, Rev David Latimer takes questions – and gives answers longer than soundbites allow! – and explains why he was comfortable to attend.
I spoke to some Sinn Féin elected representatives afterwards. One remarked that she had expected Rev Latimer to come and present a unionist position to Ard Fheis and challenge them politically. But instead, she was pleasantly surprised that his message was totally inclusive, applying to the cleric's community as much as her own.
Another politician welcomed the cleric's invitation and described him as "very sincere and genuine". She felt that the speech should be the start of a process of engagement – and pointed to existing work between communities that often carries on inconspicuously – and not just a one-off moment at the Ard Fheis.
The business carries inside the hall carries on.
Culture, An Gaeilge, Arts and Tourism … Uniting Ireland … International Affairs and the final session on Party Development and Constitution and Rules.
The Party Development motions are intriguing. They're a hotch potch of suggestions and scoldings. It's the (only?) part of the Ard Fheis clar that seems to include critical motions.
Around half nine, Ard Fheis closes with the voting on the motions.
Defeated – that a third of the party membership fee be returned to the local cumann.
Accepted – all Members to see a minimum of three copies of An Phoblacht, and each Cumann to sell a minimum of 10 per month.
Accepted – intensive Irish language training courses be mandatory for all Sinn Féin candidates across the country.
Defeated – imposing a quota of 80% of all first time candidates to be under the age of 33 in the 2014 local elections.
Defeated – that members could vote by postal or proxy vote at selection conventions they cannot attend.
Defeated – that the National Draw (the party ballot – tickets on sale at the moment) should have a winner from each of the 32 counties. [Deemed to be unfair since not all counties sell equal numbers of tickets.]
Accepted – a very critical motion which says "the party is not investing adequate resources into making the best possible use of online communications, including the party's own website, social media …" and called for a review of the party current online communications strategy, and for an amended strategy to be be presented to the Ard Chomhairle within six months of the Ard Fheis/
Accepted – media training to be offered to all party activists.
Accepted – incoming Ard Chomhairle to publish the full list of Ard Fheis motions passed with a concise history of progress made in implementing them.
That last motion is very accountable, but I bet it's unpopular with whoever has to compile it!
Alan Meban. Tweets as @alaninbelfast. Blogs about cinema and theatre over at Alan in Belfast. A freelancer who writes about, reports from, live-tweets and live-streams civic, academic and political events and conferences. He delivers social media training/coaching; produces podcasts and radio programmes; is a FactCheckNI director; a member of Ofcom's Advisory Committee for Northern Ireland; and a member of the Corrymeela Community.