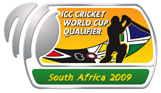 It's always an exciting time of year to be a cricketer with the clocks about to go forward. Digging out last years whites to see if they'll get through another season, throwing away the mephitic, mouldy inners, the smell of linseed oil on willow and putting creaking joints through indoor nets. Ireland's cricketers are currently in the much sunnier climes of South Africa as they prepare for the qualifying tournament for the 2011 ICC Cricket World Cup. Ireland go into the tournament as favourites and will be keen to avenge their defeat in the final on home soil in 2005 by Scotland who they meet in the opening game on April Fool's Day. Preparation has not been as smooth as one would like however as warm-up defeats to an Eastern Province XI and Zimbabwe 'A' last week led to an extra game against Afghanistan being hastily arranged for Thursday.
Afghanistan is the fairy tale team of the competition having only been elected as an ICC affiliate in 2001 and have already won 3 separate divisions of the world cricket league just to get this far. The Irish brought them back down to earth with a bump on Thursday with a much needed 6 wicket victory, Regan West the pick of the bowlers with 4 for 11 from 9 overs. Ireland's last warm-up game is against the United Arab Emirates in Pretoria tomorrow.
In other news, England got caught in a Gayle yesterday as their nightmare winter took another turn for the worse; the Saffers, rebounding after losing the home Test series to a resurgent Australia won a great game of Pro20 (Twenty20) last night; and in Napier, The Black Caps continue to turn the screw on India, enforcing the follow-on in what could turn out to be the shock result of the winter.