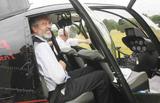 Up like a bird and high over the city
"Three men are Gerry Adams is missing" I heard the warder Deputy cry
"Sure it must have been a bird that flew into the prison Stormont
Or one of those new Ministers" – Wolfe Tones re-write of "The Helicopter Song"
An MLA it was, Gerry Adams in his Provo Birdie. The Irish News reports:
However, if the prescribed mood for the day was understated, Sinn Fein president Gerry Adams mustn't have got the memo. He stole the limelight and attracted a crowd by departing in fashion by helicopter bound for Cork.

Agriculture minister Michelle Gilder-new was on hand to wave her party leader goodbye but remained cagey over who the helicopter belonged to.

"This one belongs to a friend of the party in Fermanagh," she said. From hilltop bellowing to a subdued final speech and from angry attacks on British army helicopters to leaving Stormont in a chopper, it is clear our political leaders have evolved to the point of being almost unrecognisable.
Quite.
Altogether now:
The screws were all astounded they knew not what to do
They just stood there dumbfounded as off our rebels flew
And in the gaol the traitors were shocked and quite aghast
As they looked up and noticed the Provos flying past.
O'Hagan, Twomey, Malan, God bless those gallant three
And Britain she is furious as off our rebels flee
But everywhere in Ireland wherever the news is heard
The people cheer the Provos and their marvellous flying bird.
PICTURE: Colm Lenaghan/Pacemaker (Irish News)