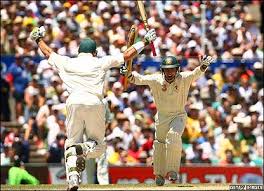 Time for some light relief. Those avid sports fans amongst us will know that a sporting triumph can only genuinely be appreciated to its full value when it has followed a barren period for spectators and participants, when adversaries were in the ascendant and 'our' day appeared some distance away.
Such fans will doubtlessly agree that nothing warms the heart more than a good ol' fashioned sports drubbing, particularly when its at the expense of a long-time adversary.
This week, England's cricket players and fans were experiencing the pain of being at the wrong end of an Ashes humiliation delivered by their most loathed opponents, Australia. Stung by their first defeat to England in a generation 18 months ago, the Aussies were ruthlessly efficient in their dismissal of the English, securing a famous 5-0 thrashing of their traditional foes in the process.
So what was your favourite sporting humiliation of all time? And, for the purposes of promoting humility, which sports drubbing left you in fits of depression?
Whether as player or spectator, such experiences can live long in the memory. I remember being on the wrong end of some shocking hammerings by a couple of Down and Connor under-age football teams in my younger days and dreading the return to school on Monday and the 'slagging' that would accompany my arrival.
As spectators, sporting embarassments visited upon our favourite teams would fill the heart with similar foreboding: Tottenham's FA Cup exit at the hands of Port Vale in my youth still lives with me.
To this day, I can't conceal a wry smile every time I line up my Primary 5 Boys at ten past nine on a Monday morning and eavesdrop on the piercing verbal blows being exchanged between fans of United, Liverpool and Chelsea as the weekend's matches are replayed and analysed as only children can.
I can vividly recall sitting in shocked despair as Glasgow Celtic scarves rained down from the Ibrox seats above me as my beloved Bhoys were humiliated in a League Cup final by lowly Raith Rovers in my one and only visit to Ibrox; the bus journey back to Stranraer was memorable for the literally hundreds of Rangers fans who stood in field, bus shelter and shop fronts pointing and laughing as we humbly made our retreat through the villages and hamlets of the west of Scotland.
But such defeats are a necessary experience for the genuine sports fan. They humble us, providing us with an experience of sporting lows so that the high peaks will be all the more appreciated when they are finally reached.
Any Glasgow Celtic fan of the late 1980s/1990s will have a painful memory of Rangers' Nine in a Row period, which started the year I left primary school and continued until my university days. This time was a glorious one for Blues fans, and I fondly remember being regularly 'wound up' by a loyal 'Gers supporting Black taxi driver at Bridge Street who came to be a family friend throughout these years.
One of the great things about being a sports fan is that we rarely get to choose which team we will support. It is something we inherit and, so long as this isn't taken too seriously (a la the more lunatic, hooligan or sectarian elements in every society, not least our own) it can be a great unifying factor within families and, more broadly, local communities.
As I've mentioned before on this site, I was born in the US and my sporting preferences betray that background. I was up until half past three in the morning on Wednesday/ Thursday of this week, watching with increasing despair and dejection as my beloved Notre Dame Fighting Irish suffered their own humiliation to match that of the English cricketers. In losing 41-14 to Louisiana State University, Irish-America's favourite team broke the record for most consecutive Bowl games lost (9), bringing shame to the great sporting institution and another dose of humble pie to its ever optimistic legion of fans worldwide.
But the great thing about sport is that there will always be another day, and with it the promise of a return to Glory- and maybe a thumping victory or two along the way.